Ramakrishna Mission Polytechnic College
Brief History
Early in the life of the Home it was realized that students with only academic achievements found it difficult to get a job soon after completion of their studies. To help them secure some skills, manual training was introduced as part of the High School curriculum. This comprised of carpentry, weaving and rattan works.
To help boys who could not even complete their matriculation, workshop practices such as smithy and foundry were introduced as early as 1925. In 1930, as part of the silver jubilee celebrations a workshop was constructed with the opening ceremony done by then Governor of Madras, Sir Frederic Stanley.
In 1932, the then Secretary Sri Ramanujachariar secured the permission of the Government of Madras and with commendable foresight started a licentiate course in Automobile Engineering. Initially it was a five year course and the Home students who secured this diploma were in great demand in the Department of Transportation not only in the then Madras Presidency but all over India.
Later in 1949 on the advice of the Government of Tamil Nadu, this course of study was converted to a three year diploma course in Mechanical Engineering (DME). Automobile Engineering was taught as an elective subject in a post diploma course for 18 months.
At Present
In 2005, as part of the centenary celebrations of the Home it was decided to introduce 2 more diploma courses, Diploma in Computer Engineering and Diploma in Automobile Engineering besides the existing Diploma in Mechanical Engineering. Government permitted Diploma in Automobile Engineering & Diploma in Computer Engineering courses as unaided courses.
The sanctioned strength for each course is 40. Besides 20% of the intake was allowed as lateral entry in 2nd year from applicants who passed 10+2 examinations. Thus total students strength in the Polytechnic College is 408.
Admission
In admissions, the Residential High School students who pass creditably in the SSLC examination are given the first preference, as the entire set up was started to provide a technical education to the orphan and destitute boys who initially joined the Home to make them job worthy.
Applications from other orphan and destitute students from various parts of Tamilnadu are received and eligible students are admitted in the three diploma courses as per government norms. Every year 120 students in the first year and 24 students in the second year are admitted.
Staff
Besides Principal, there are sufficient experienced lecturers and non-teaching staff in the aided category and self financing courses as per norms. Honorary teachers and non-teaching staff also serve in the Polytechnic in educating the students.
Workshop and Laboratories
There is a well equipped workshop catering to the training of all first year students, 2nd year and 3rd year Diploma in Mechanical and Automobile students. New CNC machines from the industry were installed to train the students. Automobile Workshop has many working models of the automobile machineries.

We have various laboratories for other subjects as well. Computer Center helps to provide practical training in AutoCAD and CADCAM subjects for these students.
In Programming Laboratories, Hardware and Networking Laboratories, 2nd year and 3rd year Diploma in Computer Engineering students get trained in software, hardware and networking subjects.

For first year students we have well equipped Physics Laboratory, Chemistry Laboratory and English Laboratory.
Placement 2012-13
All our students of DME,DAE & DCE of 2012-13 have been given placments in many important companies such as Rane Motors, Yamaha Motors, Ashok Leyland, Royal Sundaram, Prabha Engineers Pvt Ltd, Indo US MIM, Prabha TVS, Addison, Simpson, L&T, Kirloskar, George Oakes, HCL Comnet, L&T Audco, Zoho, Celestiel, Dacam Systems, iLink, Real Image, Origin ITFS, Micro India etc.
Extra-curricular activities
a. Literary and cultural achievements
As in previous years our students brought laurels to our Polytechnic College winning numerous prizes in Literary/Cultural competitions conducted by Gita Bhavan Trust, Chennai - 86 and Takkar Baba Vidyalaya, Nandanam. Nallazhgu Polytechnic College, Puzhal conducted literary competitions and our boys got 1st Prize in Tamil and English oratoy and 2nd Prize in Tamil oratory, Tamil poem writing and singing. Central Polytechnic College conducted Inter Polytechnic Tamil/Oratorical competition and one of our students got 4th Prize which carried a cash award of Rs. 1000/-.
b. Sports and Games achievements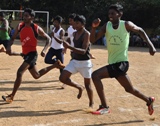 Our boys secured several prizes [I,II,III] in the various events held for Chennai II Division at Jaya Polytechnic College, Thiruninravur, like running race, relay race, pole valut, triple jump, high jump, discuss throw and hurdles. We are glad to announce that our boys of polytechnic college won the over all athletic men championship for Chennai II Division for 2012-13.
12 Students particiapted at the State Level Athletic at Kongunadu Polytechnic College, Trichy from 13.02.2013 to 16.02.2013.
c.Best Performance award
| | |
| --- | --- |
| PAC Ramasamy Raja Centenary award is given every year to the students who secure the 1st rank taking into consideration the total marks obtained in the Board Examinations. Cash prize of Rs.4000/- is awarded to each of the 3 students selected - one from each branch. This year M.Arunpandiyan[III DME], K.Sunilkumar[III DAE], S.Vigneshwaran[III DCE] were awarded the above cash awards. | |
d. National Service Scheme
| | |
| --- | --- |
| | Our Polytechnic College conducted NSS Speical Camp from 20-02-2013 to 26-02-2013 at Panchayat Union Middle School, Madayambakkam, Kanchipuram Dist. The Camp was inagurated on 20-02-2013 and attended by our Assistant Secretary, Swami Gitasarananda and other Panchayat Union officials from Cheyyur Taluk. The camp was attended by 43 of our NSS volunteers and 4 staff members. As usual they undertook renovation work in the school and village. Self employment training programmes for rural youth and women were given. |
| | |
| --- | --- |
| A free medical camp was organized on 21-02-2013 in association with Melamaruvathur Adiparasakthi Medical Education and Research Institute. Around 410 patients were screened by a team of 40 doctors and technicians for eye, dental and general ailments. The valedictory function was held on 26-02-2013 and it was presied by our Secretary Swamiji and addressed by local M.L.A and other local VIPs. | |
e. National Youth Day
A one day DOTE Level Inter Polytechnic College programme was conducted in our Polytechnic College to coincide with the 150th birth anniversary celebrations of Swami Vivekananda. Around 120 NSS volunteers from 20 polytechnic colleges participated in the programme.
f. Learning car driving by simulation
The 43 students of V Semster DAE underwent the course "Learning driving by simulation" at AASI Centre, 187, Anna Salai, Chennai - 6 from 23rd Jul to 15th Dec 2012 for 3 hours per student.
g. Special course - CCNA
A special course on computer networks, Cisco Certified Network Associate [CCNA] - Exploration 4 Modules was conducted for our final year Computer Engineering Students [40 Nos] for two months. This year three weeks online video conferencing classes were also arranged by Cisco, Bangalore.
A Microsoft Course "Microsoft Digital Literacy Certificate Test" was completed by our final year Computer Engineering Students.
h. Motivation to teaching staff:
The staff members were awarded with cash prize for having achieved 100% in their respective subjects they have taught.
i. Industrial Visit
The fnal year Mechanical Engg. Students visited the Art gallery, technology museum, Hindustan Aeronautic LTD museum and Indo-US MSM Tech Pvt. Ltd Hoscote, Bangalore from 12.02.2013 to 14.02.2013.
Our final year DAE & DCE students and second year DME students visited Neyveli Lignite Corporation on 26.02.2013.
II Year DME, DAE & DCE students and III year DME, DAE & DCE students visited AIEMA Buyers & Sellers fair at Ambattur on Thursday 7th March 2013.
All our students visited Book fair - held at YMCA Grounds, Nandanam and they were provided with money to purchase books to encourage book reading habits among them.
Distribution of Laptops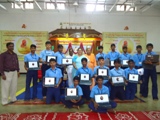 117 laptops were distributed to II Year Mechanical, Automobile and Computer Engineering Students on 22.02.2013 by Tmt R.Rajalakshmi, Member of the Legislative Assembly, Mylapore constituency.
Development and Upgradation of activities
Due to change of Syllabus from "K" scheme to "L" scheme, the Department of Technical Education has revised syllabus for diploma courses. In order to equip workshop and laboratories, the following developmental and upgradation activities were made.
a) CNC Lathe costing Rs.7Lakhs (Subsidised Price) and VMC Machine costing Rs.12 Lakhs(Subsidised Price) donated by Ambattur Industrial Manufactutres Association were commissioned for the benefit of our students.
b) A Grid tied solar Power System was installed and connected to our E.B mains at Polytechnic College campus. The rating of the panel is 5KVA and the total cost is Rs.6.96 Lakhs
c)The following tools and equipments were purchsed for Automobile/Themal Engg. Lab costing Rs. 2.5 Lakhs
1. Clutch assembly - 1 No.
2. Synchromesh gear box - 1 No.
3. Battery Charger - 1 No.
4. Digital bomb calorie meter with 10 ltr oxygen cylinder - 1No
5. Digital diesel smoke meter - 1No
6. 2 stroke petrol enginer (Cut section model) - 1 No
7. Epicyclic gear train assembly - 1 No

M/s Hyundai Motor India Ltd have donated the following items for our Automobile Engg Lab.
1) Front disc brake assembly 1 set,
2) Rear Drum brake assembly 1 set
d) The following tools and equipments were purchased for Rs.3Lakhs worht for the Metallurgy Laboratory and the entire amount was donated by Sri C.Ranganathan, Chennai Metco Pvt Ltd, Ambattur.
1. Hydralic Specimen Mounting Press - 1No
2. General Purpose Belt Grinder - 1 No
3. 8" Double Disc Variable Speed Grinder Polisher - 1 No
4., Vertiment CP - 1No
5. Image Capturing Device - 1 No
e) Cisco Company has donated two routers and two switches worth Rs. 4.75 Lakhs to our Computer Engineering Department.
f) One ton Capacity, Traveling Hoist (Crane) worth Rs.25,000/- has been donated to our Polytechnic College by Sri S.Venkataraman, Chennai - 64, and old student of the Home and The President of the Old Boys' Association of Ramakrishna Mission Students Home.
g) All the class rooms were equipped with Multimedia Computer and 29" LED Monitor with Internet facilities.
h) A Hybird Solar-wind DC Power System is being erected in the terrace.
i) SGVEP - In connection with Swami Vivekananda's 150th Birth Anniversary celebrations we are carrying out Sustained Graded Value Education Programme (SGVEP) in our Polytechnic College during Saturdays as per the instructions of our Headquarters. This programme has been sponsered by Government of India through our Headquarters. All our students are getting benefited by these [Moral] Classes.
j) Workshop on Transactional Analysis (TA) - A programme of systematic approach to harmonious living fo the benefit of our staff members was conducted every Saturday from 2.00 p.m to 5.00 p.m. This programme is anchored by Mr.Babu Sankarasubramanian, practicing Company Secretary and member of TA club and arranged by Mr.Raghunandan, Volunteer.
k) Rotract Club
This club was started on July 28th 2012 by the Chennai based Rotarians. 18 students have gained knowledge about keeping the campus clean besides hygiene, blood donation, helping the poor and needy during disasters and natural calamities.
l) We have appointed Ms. Ananthi Karthic M.A.Eco, M.Sc.Coun & Psy, M.Sc., M.Phil.Psy as counsellor on voluntary basis for the benefit of our students.
m) Staff Recruitment Thirteen staff members were recruited by the management for serving in different departments and the slary for them is being borne by the management.